MecsTreem – Turbo Lover Autobahn
Turbo Lover Autobahn – Mecstreem
(2015)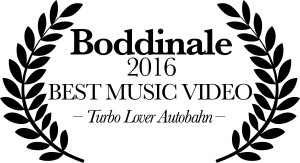 Winner Boddinale Berlin 2016 – Best Music video
About
Turbo lover autobahn is a music video for the artist Mecstreem, included in his album Newave (2015).The concept was developed together with the german photographer Thomas von Wittich. As we both share a passion for B-movies, videogames and videocassette culture, the project was perfect to explore this aesthetic. The leading technique to build the story is the collage, as gave us the opportunity to marry many different and diverse footage combined with After effetcs. This result ended up turning into a very energetic film, which add a strong visual component to the vitalistic music of MecsTreem. The footage comes from all over the internet. From mainstream sites to unknown blogs, it brings a perfect blend of many references.
Recently, the video has been awarded in the Bodinale Festival in Berlin 2016 as the best music video.
Role; Direction, Edit, Post production.